5 tags
fatty bum bum
Annual holiday. What a horrible word. It reminds you that it's limited. Although at the same time it makes it all the more precious. I've been very lucky this year and been to some amazing places - still keeping my fingers crossed that I can squeeze some extra trips in.  Last week was my first week back at work after a delightful 2 weeks off. So during my post holiday blues - I looked...
2 tags
I forgot how much I love this film and everything about it. IT'S AWESOME.
4 tags
My sister is very lovely but also dead smart. She is THE CAREER WOMAN but in the nicest possible sense. She renews my faith in being successful and still a great person. Anyway.. alongside her 9 - 5 she is setting up her own thing. Magpie Marketing. Picking out the best of the overcrowded marketing world and bringing it to us. With plans already set up to hold workshops - this could be a very...
7 tags
I'm always impressed by the Portrait Awards at the National Portrait Gallery - although photo realist painting has never been my style ,it does still amazes me. The artist that really caught my eye was Erik Olson. His work is stylized and full of character. Here are a few of my favourites…(the block colour backgrounds against the expressive strokes seem to work really well).
5 tags
The results of an attempted pottery class in Haggerstone. Very fun and surprisingly therapeutic… or whether it becomes relaxing because all of sudden there is no agenda? Either way it was great. If only we could spend our lives doing art workshops.. Although I imagine that is the slippery slope towards acceptance of 'crafty jewellery'. Thanks to our lovely teacher and ceramics...
1 tag
One studio please…
4 tags
Sometimes it's just nice to take a normal Tuesday off work and make it into something awesome. So my good friend Harriet and I, went off on an adventure to Sunbury Antiques Market effort of leaving London at ridiculous o'clock was definitely worth it. Here are some of the purchases… a few of of many more I imagine. What a world full of treasures.
The sky is finally blue.
3 tags
I would like to see this soon too. Despite the fact that I haven't been to the cinema much this year - I have been twice in the last few days. Rainy days of May are giving me a good excuse though.
3 tags
"If you a fly gal get your nails done Get a pedicure, get your hair did" (Illustration : Rachel Ellis)
Song isn't the best but the video is amazing… mixed with stop-motion animation. This took 9 months to produce with a 2 minute output. Life on looooooooooooooooooooop.
2 tags
she funky.. and she know it.. and i like it…
3 tags
B.K.S
My book worm sister, is setting up a book club this week (entitled B.K.S)… Looking forward to it and hopefully reading some inspiring reads - apart from the Metro. (Illustration : Rachel Ellis)
I love how the sun makes everything/body happier…
4 tags
Bob Buchanan - Whatta guy. Whatta record collection. Love ya Gramps.
2 tags
i've been enjoying doing some collage again recently - i sometimes struggle to draw images off a screen. i think sometimes its nice to draw away from a computer - when thats all i look at allll daaaay long. so i've been working more of tears recently…
3 tags
When I have that rare moment of an illustration, I'm truly happy with. I tend to find it has that perfect balance of messy/neat, spacious/busy, colour/monotone, fantasy/realistic etc etc etc. These illustrations by Lucinda Rogers have a lovely make up on these various features… there are just nicely balanced (which could sound boring – but I think it is a very difficult thing to achieve).
2 tags
(Illustration : Rachel Ellis)
Douj Johnson's lines have a certain calming influence. Lovely stuff.
God damn.. some serious moves
This is a street dance in Brazil called Passinho - its based around small creatives movezzzz. Puts the rest of us.. (usually pissed dancing in the pub) to serious shame.
(THIS MUST BE THE PLACE)
Street artist Mobstr brings in some home truths.
2 tags
This is just perfect…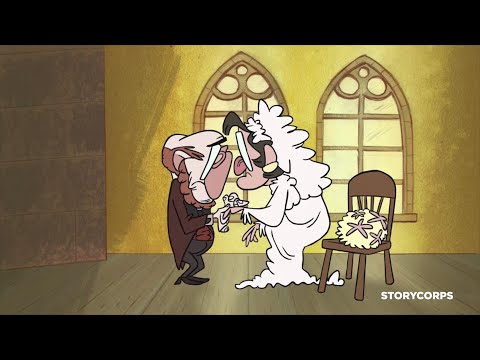 Watch
This is so amazing and SO SO SO worth the watch.  Sorry I haven't been blogging, I've been a busy bee interning. Researching and researching some more.
Open your mind.
http://www.ted.com/ If I ever have a spare 15 minutes… I love watching and listening to the talks on here. It always gives me time to reflect and consider.